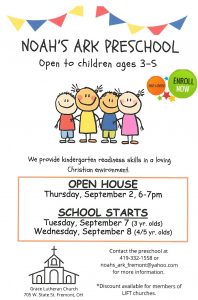 Noah's Ark Preschool is getting ready to begin another school year!
Our new Director, Andrea Hirt, and teacher, Susan Sawdo, are looking forward to welcoming students to an exciting year of preschool!
Enrollment is open now for children ages 3-5.
Registration packets are available through the church office during business hours
(Monday – Thursday, 9am-4pm; Friday 9am – 1pm).